Has load-shedding got you pulling out your hair? Powering your devices during load-shedding will be a walk in that park with our solutions.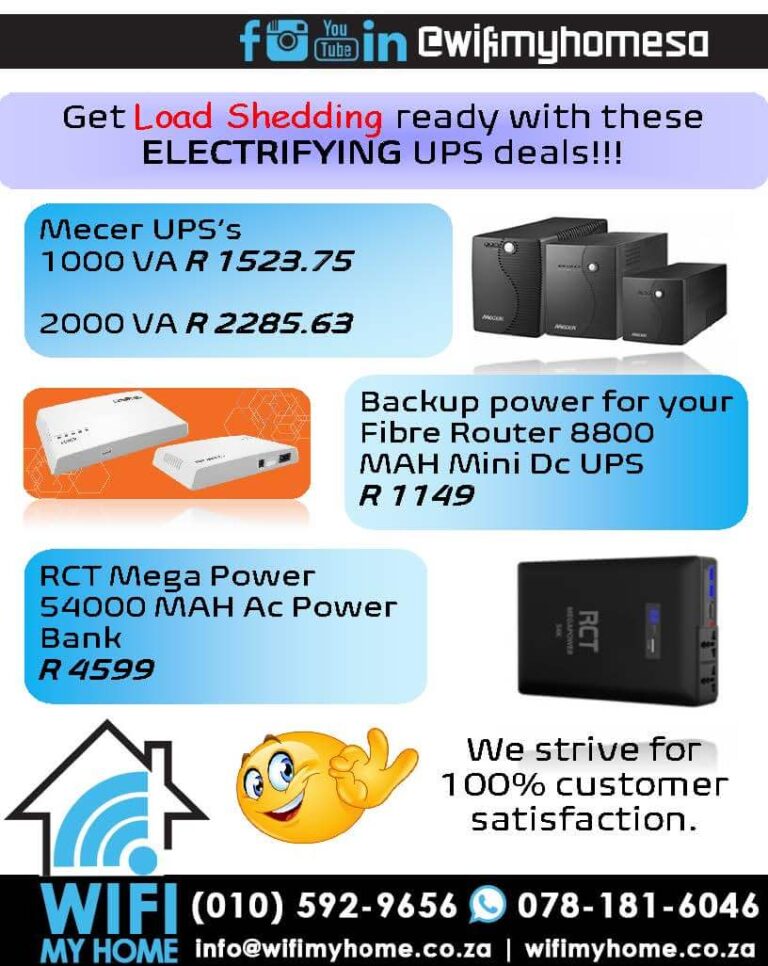 With school classes and exams all being done online and digitally, being connected, and having ongoing power is no longer a luxury but a necessity!
Furthermore, if you are working from home you will equally appreciate not having to suffer critical downtime down due to power outages and ongoing load-shedding!
With the help of a Mecer 2.4KVA/1440W Inverter when you can keep power supplied to your:
Internet & WiFi Routers
Computers & Laptops
Printers & Chargers – AND SO MUCH MORE!
That means regardless of load-shedding, you can keep working on what is most important to you!
Let's look at some of the impressive specifications of the Mecer 2.4KVA/1440W
Includes housing and wheel
2 X 100AH 12V Deep Cycle AGM Battery
Simulated sine wave inverter
Wide input voltage range
10 A and 20 A standard AC charging current
LCD display for comprehensive information
Overload, short circuit, and reverse polarity protection
4-5 hrs power generation (depending on the draw of what's connected)
The best part is this must-have necessity will not cost you an arm or a leg either!
Get yours today for only R 9 812.50 excl VAT or R 11 284.38 incl VAT
TCs: Price is subject to change
Let us help get YOU connected so that you enjoy the things that matter most to you!
At Wifi My Home our goal is to provide you with a professional and personalised cutting edge Wi-Fi solution. Paired with a unique customer service experience that is guaranteed to leave you satisfied!
We invite you to contact us for more info on how our Wi-Fi solutions can help get you connected!
"Home" is where the Wi-Fi is!
For more information:
[email protected] | (010) 592-9656 | WhatsApp during office hours 078-181-6046 | Directions to our office
Are you enjoying your new connected experience? Show us some love @wifimyhomesa
We invite you to leave us a FACEBOOK RECOMMENDATION or GOOGLE REVIEW.